Remember
the stack of floor boards
that had been left behind when we moved in? Measured and counted, they rested along the side of the nave. They served well to contain the plastic bowling ball for our
New Year's Eve 5-frame bowling tournament
, but other than that, they've just been in the way.
Over 17 feet long, they couldn't make it down the stairs in one piece, so in the interest of making the most of what wood we had, I needed to decide how short or long each piece would need to be for us to make, in this case, the tops for our tables.
For this, I turned to my print publishing software. After creating a scale model of each floorboard, I was able to cut and assemble them over and over until I had them in the right dimensions and configuration to create four of the six matching, modular tables we have in mind.
The wood is pretty rough, and while I'd love to retain as much of that character as possible, I do need the surfaces to be smooth so the tables can function as a place where we can write, eat, and sew, to name a few essential activities. And they need to be easily cleaned up.
So now that they're cut, we'll have to plane them down, rip them to equal widths, fill in the holes, and glue and clamp them together. By then, perhaps, we'll have figured out how to make the table base. This is the look we'll be aiming for: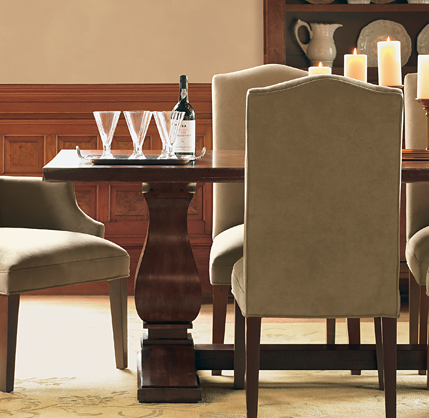 Camden Trestle Table
Restoration Hardware
And oh yes, I cut them all myself. With the help of my handy hubby, of course.